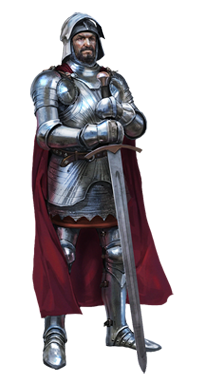 StatisticsEdit
The noble paladin protects you and your allies' villages from enemy attacks. Each player may only have one paladin.
| Costs per unit | Villagers needed | Speed | Carrying capacity |
| --- | --- | --- | --- |
| 20 20 40 | 10 | 8 Minutes per Field | 100 |

Battle statistics

Offensive strength
150
General Defense
250
Cavalry Defense
400
Archer Defense
150
Advantages
Edit
The Paladin can support troops when he is sent with them to travel at 10 minutes per field. Which is good as the mainly defensive units are:
Spear fighters - Travels at 18 minutes per field
Swordsmen - Travels at 22 minutes per field
Heavy Cavalry - Travel at 11 minutes per field
The Paladin can also be used as early farming as it can take 100 resources as haul.
Requirements
Edit
Statue Lvl 1
Ad blocker interference detected!
Wikia is a free-to-use site that makes money from advertising. We have a modified experience for viewers using ad blockers

Wikia is not accessible if you've made further modifications. Remove the custom ad blocker rule(s) and the page will load as expected.